Cecilia Manguerra Brainard: An Interview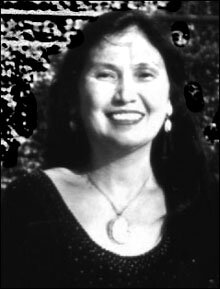 by
Daniel M. Jaffe

Cecilia Manguerra Brainard is one of the few authors whose first novel captured readers' imaginations across international boundaries. Her novel about the Japanese invasion of the Philippines during the Second World War, was initially published in 1991 in the Philippines as Song of Yvonne (New Day Publishers). Dutton brought the novel out in hardcover in the U.S. as When the Rainbow Goddess Wept (1994), and Plume followed with a paperback edition in 1995. University of Michigan Press then brought out another edition in 1999. This portrayal of a girl's blossoming into young womanhood "interweaves realistic events with myths of women fighters and goddesses, as well as fantastic dreams . . . Brainard's appealing characters are larger than life, people who change before our eyes, yet remain utterly convincing . . . A fast-paced, sensitively written first novel." (Kirkus Reviews.)
For Cecilia, this text was merely the beginning. She is now the prolific author, editor, and co-editor of a dozen books, including Magdalena, Acapulco at Sunset and Other Stories, Philippine Woman in America, Woman With Horns and Other Stories, Growing Up Filipino: Stories for Young Adults, Fiction by Filipinos in America, Contemporary Fiction by Filipinos in America, Behind the Walls: Life of Convent Girls, and most recently, A La Carte: Food & Fiction (Anvil Publishing, 2007). Awards she's earned include a California Arts Council Fellowship, a Brody Arts Fund Award, the Outstanding Individual Award from her birth city, Cebu, Philippines, and a Filipinas Magazine Award for Arts.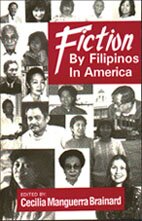 In the Introduction to one of her anthologies, Fiction by Filipinos in America (New Day Publishers, 1993), Cecilia speaks about seeking a "Filipino voice." Yet the stories in that anthology are so varied that I wondered how Cecilia might characterize a Filipino literary voice. She explained, "When I was a beginning writer I had been severely critiqued by a woman who said my story could have been written by a Sacred Heart graduate in New York. After recovering from the hurt, I thought about her comment and realized she was talking about voice, that my voice had been off. I thought and studied 'voice' for a long time reading such writers as Gabriel García Márquez, E.M. Forster, Dostoevsky, and other 'greats' wondering about their voice and how this could be transmitted even with translated works. In the meantime I also experimented with my own writing, choosing Filipino and Filipino-American themes, experimenting with dialogue—I'm writing in English but my characters are speaking in Tagalog or Visayan or Spanish. Eventually I figured out that character is the most important, and language is a tool—at least this is my theory.

"But while these thought processes were going on, I went to many libraries looking for books by Filipino-Americans, and in particular I wanted to get a hold of a collection of Filipino-American stories. I never found such a collection. A decade passed and still there was no such collection. At this point I realized no one else would do it, and so I went ahead and did the collection.

"As I mentioned, I think the most important aspect to this question of 'voice' is character, and Fiction by Filipinos in America had to include stories that involved Filipino characters. The problem many Filipino and Filipino-American writers face is that we are using a borrowed tongue, English. Many of us have been raised reading mostly Euro-centric books and magazines. The movies we generally see are Hollywood films. So our heads are crammed with Euro-centric stories and characters. It involves some soul-searching to create Filipino characters and situations and conflicts when we write.

"But, the wonder of it is that all human beings deal with universal feelings of love, hate, fear, revenge, etc., and so these Filipino American stories that reflect a particular culture ultimately reflect these same universal feelings. This is why anyone can read the stories, not just Filipinos, and appreciate them. They feel varied because the feelings explored are varied."

American writers who draw upon cultural roots from beyond American shores often must decide who our audience is. "Yes," Cecilia agreed, "the audience must be considered. For instance, are you writing for adults or children? This will affect your topic and the writing style. Are you writing for a purely Filipino audience? Then you do not have to explain too much about the culture. Are you writing for a broader audience? Then you have to be aware of their limitations in understanding the culture or Taglish, etc.

"I write in English and since I learned writing skills here in America—that is, my work has been critiqued by Americans—I've learned to write about my culture but in a way that a non-Filipino can get it. I do not mean I've exoticized my writing because that's something I've avoided.
"There generally is some aspect of 'educating my readers' in most of my books; and in fact many of them continue to be used by educators. I do not set out writing them to educate—that sounds a guaranteed way to bore your readers. I myself am usually interested in what I'm writing about—World War II in my first novel (When the Rainbow Goddess Wept), more history in my second novel (Magdalena). I do research to create as accurate a world possible in my stories (or as credible as possible)—and so I've got the dates and the places and historical events—and in fact then, this is educating my readers, aside from entertaining them. I was so amused to learn that When the Rainbow Goddess Wept was used for years in a political science class.

"A book I've collected and edited, Growing Up Filipino: Stories for Young Adults, is another book that is used in schools, both in the Philippines and the US. I did not set out to 'educate' although I was aware, when I was working on this collection, that there was no such collection for young adults. I knew there was a gap there, a niche, and yet here were these wonderful stories appropriate for young people learning how to negotiate life. I did the book as an act of creation more than to educate."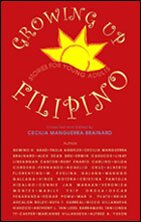 What inspired Cecilia's historical novel, Magdalena (Plain View Press, 2002), a family saga of three generations of women in 20th-century Philippines? "Magdalena was a pain in the butt to write," she said. "After writing my first novel I started a second novel. Because the first one was linear, that is, it starts at the beginning of World War II and ends when the war ends, I expected I'd write another linear piece. But the second novel kept fighting me! It was flipping about in terms of time, and then there were numerous characters presenting themselves. While I was writing it, I knew things were out of control. It took years, and finally I gave up on the second novel and decided to salvage what I could and turn them into short stories. I was working on this when it occurred to me that I could use those 'short stories' as chapters of a novel. I am not sure what inspired me really because the characters were the ones who pressed themselves on me. But perhaps Philippine history inspired me, and Filipino women also inspired me."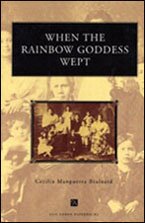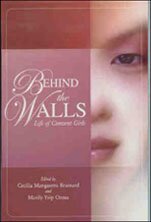 The influence of religion can be felt in much of Cecilia's work. One memorable example takes place in When the Rainbow Goddess Wept, when the character of Doc Mendez considers allowing himself to be crucified on Good Friday. "Oh, Dan," said Cecilia, "I went to Catholic school from kindergarten all the way to college, and Filipino culture is so tied in with Catholicism, so much so that religion seeps out of me. And yes on a personal level, Catholicism is important to me, and I read Thomas Merton, C.S. Lewis, lives of saints, etc. But I've only done a lot of these religious readings in recent years, many years after the writing of Song of Yvonne (When the Rainbow Goddess Wept). Religion was already ingrained in me even when I was young. You have to be in the Philippines to witness the number of people in churches daily—overflowing, and during Christmas and Lent there are numerous rituals, including the flagellation and crucifixion as referred to in Doc's Crucifixion." Speaking of Behind the Walls: Life of Convent Girls (Anvil Publishing, 2005), which Cecilia co-edited with Marily Y. Orosa, Cecilia added, "Behind the Walls was a kind of offering Marily and I made to the Catholic convent schools in the Philippines."

Marily Y. Orosa is an old friend who became a publisher. "Through the years," Cecilia said, "she and I often talked about doing books together. And finally we did, first co-editing Behind the Walls, and then A La Carte: Food & Fiction, a collection of 25 short stories with accompanying Filipino recipes.

"Eating and celebrating is very important in Filipino and Filipino-American cultures and we believed that such celebrations or food events would have stories behind them. In a sense this notion boomeranged because we anticipated we'd get fun, light stories, but we also got some serious stories. We supposed this is because food and celebrations have to do with relationships, which are not always fun and light.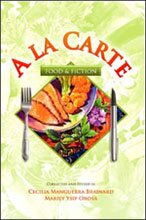 "We looked for character-driven stories, which had something to do with eating or food. In some cases the contributing authors had been inspired by particular recipes, in others, we had to find the recipes for the stories. The collection in A La Carte is quite good, and so are the recipes."

Reflecting on her career as a whole, Cecilia observed, "The books published in the Philippines (by New Day and Anvil) are difficult to find here in America, and it's only those who are truly interested who go out of their way to get hold of them. My readership is limited here in America; it is wider in the Philippines.

"I used to fret about this until I realized that it's the fate of all writers really. I know many writers here in America who can't even publish their work, and the published ones are constantly struggling with issues such as their books being remaindered, etc. There's just a small percentage of writers—the ones who write bestsellers—who have an incredibly wide readership. Early on, I considered writing romances so I could kick them out every year and make money. Well, very quickly I learned that it was still hard work to write even romances, and I decided to write my own stories.

"At some point I had also asked myself if I wrote to be widely read. I remembered looking at the Los Angeles Times and noting that its readership is in the millions. If I had wanted to be read by millions, I should have been a journalist for the Times or some other huge paper. No, there was something else driving me to do what I was doing—and I can only say it was the urge to create—to do stories, essays, books.

"I think, in balance, I've received enough strokes for my work, and I can do whatever I want and have a publisher, and have a readership that is truly grateful and appreciative of my work. Maybe I'm a big fish in a little pond, but that pond is important to me and to the other fish living in there!"

Cecilia invites readers to her web site and her blog.


Dan is the author of The Limits of Pleasure, a rather controversial novel nominated by some for awards and by others for public burning (well, almost). A former corporate lawyer, he shed his suits to become a rebel with a cause—creative freedom in life and art. Dan frequently publishes short stories and personal essays in literary journals and newspapers such as The Forward, Green Mountains Review and The Florida Review. He compiled and edited With Signs and Wonders: An International Anthology of Jewish Fabulist Fiction, and translated Here Comes the Messiah!, a Russian-Israeli novel by Dina Rubina. He also teaches fiction writing for UCLA Extension. Dan can be reached at This e-mail address is being protected from spambots. You need JavaScript enabled to view it and his web site is here.