Caroline Leavitt: An Interview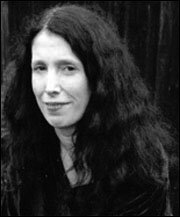 by
Daniel M. Jaffe
Caroline Leavitt is the award-winning author of eight novels, including Into Thin Air, Coming Back to Me, Living Other Lives, and Girls in Trouble, which was a Booksense Selection. A book critic for the Boston Globe, People, and Dame, Caroline has received a New York Foundation of the Arts Grant in Fiction, was a finalist for a Nickelodeon Screenwriting Fellowship, and was nominated for a National Magazine Award.
Caroline's recently finished novel, Traveling Angels, is already garnering attention—a portion of the novel won a prize by Bellevue Literary Review. I asked Caroline how she sees this novel fitting with her body of work as a whole. She replied, "Traveling Angels asks the question, 'How do we forgive the unforgivable?' as well as 'Can we trust what we think we see?' Traveling Angels is a screenwriting term (the stranger who comes in the midst and changes everything), but it's also based on an old story about two angels who are traveling around the world and they stop at one house where the owner is really nasty and greedy and not very hospitable and when the angels leave, the younger angel asks, 'Why didn't we do something?' The older angel says, 'Things are not what they seem.' They next go to a house where the couple is wonderful—warm, loving, kind, really hospitable—yet when the two angels leave the next day, the couple's one cow keels over dead. 'What are you doing!' cries the younger angel. 'You did nothing to the mean guy but you have ruined this young good couple!'

" 'Things are not what they seem,' says the older angel. He says that he sealed away all the money that the first greedy, nasty guy was hoarding, and in this case, he knew that the angel of death was going to take the good couple's wife, and he talked him into taking the cow instead!

"So the novel is about things not being as they seem. It centers around this thirtyish photographer who is driving in the fog, fleeing her philandering husband, and her intersection with a mysterious wife who is standing in the middle of a foggy road with her young son. The cars crash, and the wife is killed. The woman becomes obsessed with helping the family and even falling in love with the husband and mothering his young son, who believes she is an angel who will bring his mother back to him, but of course, 'things are not what they seem,' and there are secrets to what happened, which when revealed, change everything for everyone.

"This was the toughest book for me to write. I knew the last chapter, an epilogue which shoots thirty years into the future. I knew the first chapter, but I had no idea what was going to happen in the middle. Like all my novels, it's about the thorny give and take of human relationships, and about what makes a family, but I hope that I've gone deeper, to explore issues of forgiveness and lies and that terrible 'what might have been' that we all somehow grapple with."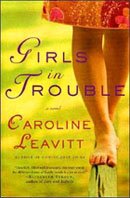 Caroline's earlier novel, Girls in Trouble, "was another surprise for me!" she said. "Before the book was even out in galleys, someone in the community of birth mothers (the book is about an open adoption gone wrong) found out about it, as did the adoption agencies. The birth mothers were really worried that I was going to portray them as evil, and I kept assuring them that my birth mother was a heroine (she is!). The adoption agencies were delighted because they wanted to get press on open adoptions. But once the book was out, things changed dramatically. I became the heroine for birth mothers. They said that finally, someone got it right, which was so gratifying, but the adoption agencies were really furious that I had shown things that could go wrong. I was on National Public Radio, and callers would SCREAM at me and accuse me of stopping adoption. My take was that (a) I'm a novelist and I want to explore all sides of the issue, from the birth mother to the adoptive parents to the birth father, and (b) if you don't open the whole topic up for discussion, how can things every get better?

"I found myself surrounded by controversy, which was hard for a basically shy person like me. But the reviews were incredible. I would stand there and stare at them in astonishment. My husband always laughs at me because whenever I turn in a novel, I'm always sure that it is junk and it will be the end of my career. I was sure about Girls in Trouble ruining everything for me, but it got into several important book clubs and was reviewed everywhere and there was even some film interest, which, as is usual in the film business 90 percent of the time, never came to light.

"But I still get letters from birth mothers, and from readers about the book, which just pleases me to no end. Of course, it also scares me, because now I think, well, will I disappoint people with my new novel? Will it be as good?"

Girls in Trouble was inspired by the extreme difficulty that Caroline and her husband experienced in adopting a child. As a general matter, Caroline doesn't shy away from writing fiction based on life experience, even tragedy. Years ago, after losing her fiancé to a heart attack, Caroline wrote Living Other Lives, about the struggle of three women who lose the man they love in different ways. What sort of distance did Caroline need in order to write these novels, distance from the actual traumas that sparked them? Did her characters respond differently to the traumas than she did in real life? Did the writing help her personally? Caroline very generously agreed to respond to such probing questions.

"I never wanted to write about personal issues, but after my fiancé died, a friend who was a therapist told me, 'You have to write about this. It will heal you.' I didn't believe him, and the last thing I wanted to do was write about something so killing to me. He kept pushing me, and I would sit at my computer and sob, write a line and then sob some more. When I was done, I showed it to my friend, and he pushed me to send it to a magazine. I refused. He sent it for me, and it was published. I was shocked because suddenly, I was getting thousands of letters from young widows like me, thanking me! The piece was nominated for a National Magazine Award, and I found myself getting out of my grief a bit because I was talking to all these other women and helping them with theirs.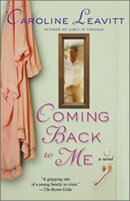 "Coming Back to Me, my novel about a young husband whose wife falls mysteriously ill, came out of a similar situation. (Gee, I wish my life were not fodder for my books!) After the birth of our first child, I fell mysteriously ill for a year. I was in the hospital for months, in bed for a year--it turned out to be a rare blood disorder where my blood didn't clot. I survived and I'm fine, but while I was sick, the hospital gave me memory blockers so I wouldn't remember the pain and the procedures. When I was well, because I couldn't remember what had happened, I couldn't work through it, process it, and let it go. Instead, I'd have horrific nightmares. I'd walk into a supermarket and break into a cold sweat when I saw packaged soup (turns out that was the kind they had first tried to feed me.) Certain smells would make me panic. Again, my friend who is a therapist said, 'Make up a memory. The brain won't know the difference.' So I did, and by the time the book was finished, the anxiety was gone.

"The adoption was less traumatic, because we already had a fabulous son, but it was still such a horrible process. The agencies were not very helpful to us, the birth mothers were starving for talk, and so many times they didn't really know what they wanted to do, or how to deal with feelings like jealousy and grief. I couldn't stop thinking of all the voices of the young birth mothers, how they seemed more interested in talking to me about makeup or movies or celebrities than whether I would be a good mom to their kids. I couldn't forget those voices.

"Do my characters respond differently? Absolutely. I write fiction so I can't help but make things up! Do I need distance? Yes. It took me about six months after each event to stop crying long enough to write a line. Making art, or at least what I hope it is art, out of tragedy seems to me the only way to make sense of it, to put it to rest. You sort of put it into the light and hope it shrivels up and goes away—or at least that it might help another person."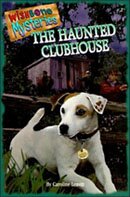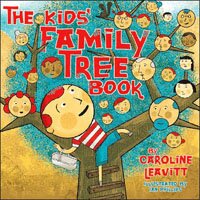 Caroline also writes children's books such as The Haunted Clubhouse and The Kids' Family Tree Book. "I fell into writing for kids," explained Caroline, "when I was so sick. We had medical bills that were over a million dollars and our health insurance was starting to balk about paying them. I couldn't leave the house, but a friend's husband was the editor for the Wishbone books, based on the PBS Emmy award-winning series about the little dog who loves classic literature. It was a blast to do! I got to make dog puns. And even better, ten times more kids showed up for readings than they did for my adult books. The letters I got and continue to get are so sweet and lively, too.

"It's a very different experience. I love kids, young to teenaged, and I always try to reach them in some way, whether by being funny or serious. It's much easier for me to write for kids because the works are shorter and a lot of my kids' books are nonfiction, but the rewards are just as great."

Caroline doesn't limit herself to fiction. She is also writing a new column on self-help books for The Boston Globe. "I had written a column for The Boston Globe called 'A Reading Life" for years,' " said Caroline, "along with two other writers, when they had a space cut so with great regret on all sides, my part and another writer's part were cut. Awhile ago, they offered me another available column, which was on self help, and I jumped at it to be back in the Globe and to be working for them again. (They are fabulous, fabulous, fabulous!) My take on self help is not to do the books that are 'Ten Ways to Find the Man of your Dreams,' but to dig out the quirky interesting subjects that fascinate me. I've done columns about the new snarkiness in money books, or about books pushing middle-aged women to be more sexy, and I'm working on one column now about the brain. What could be better than that? I get to learn things, and I get to help people, and more than occasionally, the books help me as well. It's really a blast."

Readers can learn more about Caroline Leavitt on her website.


Dan is the author of The Limits of Pleasure, a rather controversial novel nominated by some for awards and by others for public burning (well, almost). A former corporate lawyer, he shed his suits to become a rebel with a cause—creative freedom in life and art. Dan frequently publishes short stories and personal essays in literary journals and newspapers such as The Forward, Green Mountains Review and The Florida Review. He compiled and edited With Signs and Wonders: An International Anthology of Jewish Fabulist Fiction, and translated Here Comes the Messiah!, a Russian-Israeli novel by Dina Rubina. He also teaches fiction writing for UCLA Extension. Dan can be reached at This e-mail address is being protected from spambots. You need JavaScript enabled to view it and his web site is here.